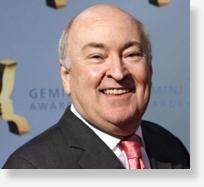 Canadian actor and comedian Roger Abbott has died, his friend and fellow player in CBC's
Royal Canadian Air Farce
confirmed Sunday.
Don Ferguson said Abbott, 64, died Saturday night at Toronto General Hospital, 14 years after being diagnosed with chronic lymphocytic leukemia.
He kept the progressive disease secret from all but a few close friends and family until a week ago, Ferguson said.
"Roger was the guiding light of
Royal Canadian Air Farce
since it began in 1973, and all of us who have had the honour of working with him and the pleasure of knowing him will dearly miss his kindness, generosity, integrity, leadership and wonderful sense of humour," he said.