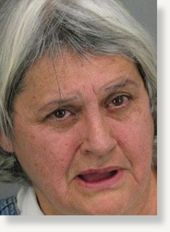 A US woman has been charged with animal cruelty after allegedly hanging her nephew's pit bull from a tree with an electrical cord and burning its body after it chewed on her Bible.
Animal control officers said that 65-year-old Miriam Smith told them she killed a female dog named Diamond because it was a 'devil dog' and she worried it could harm neighbourhood children.
Smith's nephew left the one-year-old animal at the home he shared with his aunt during the recent winter weather while he went away.
When he returned, he could find no trace of the dog and assumed she had broken the chain where she was usually tied at the front porch of the house.