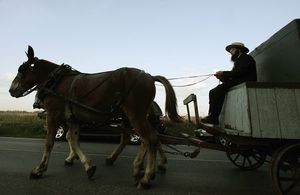 Authorities say a 38-year-old Amish man has died after being run over by a horse-drawn farm wagon that broke free in southwestern Michigan.
The
Kalamazoo Gazette
and WTVB-AM report Daniel Yoder of St. Joseph County's Nottawa Township was driving the wagon loaded with hay Thursday night when the yoke between the horses broke, part of the trailer gave way and the wagon rolled down a hill and off the road.
The sheriff's department says Yoder was run over after falling off the wagon or trying to jump to safety.
The accident happened in Nottawa Township, about 75 miles south of Grand Rapids.
On Tuesday night, an Amish woman was killed in Quincy Township when her horse-drawn wagon was struck from behind by a pickup truck.
Source: The Associated Press