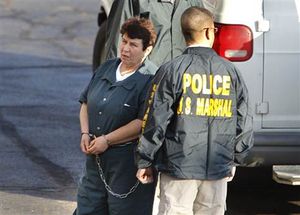 Stanton, Ky. - The arrest of a Croatian woman in small-town Kentucky for alleged war crimes two decades ago in the former Yugoslavia "brings her long run from justice to an end," a U.S. marshal said.
U.S. Magistrate Judge Robert E. Wier ordered that Azra Basic, 52, be held without bond pending an April 1 status hearing and appointed her a lawyer.
Prosecutors argued that no bail amount would guarantee Basic's presence in court.
Federal agents arrested Basic on Tuesday. A complaint filed by U.S. Attorney James Arehart accuses Basic of committing crimes at three camps in the early 1990s near the majority-Serbian settlement of Cardak in Derventa in Bosnia.
The Croatian woman locals in Stanton knew as "Issabella" settled years ago in this rural, hilly area and took jobs bathing elderly nursing home patients and working at a sandwich factory.
This week, acquaintances were shocked to hear the secret that Bosnian war crimes investigators said Basic has been hiding for two decades.
As a soldier in the Croatian army, she killed a prisoner and tortured others by forcing them to drink human blood and gasoline, authorities said.