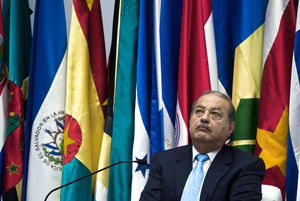 Carlos Slim, the world's richest man, lost about $8 billion this week.
The Mexican billionaire's stock portfolio, measured in U.S. dollars, has dropped about 11 percent since July 29, before today, and is valued at about $63 billion, according to data compiled by Bloomberg. That compares with a 7.1 percent slide in the Standard & Poor's 500 Index.
Slim, 71, has taken a hit as Mexico's benchmark IPC index dropped 7.4 percent and the peso slid 2.5 percent against the dollar on concerns that the flagging U.S. economy will hurt demand for assets in its southern neighbor. The removal of three of Slim's companies from the IPC index has made matters worse for the billionaire.
"He's been particularly hurt by those companies leaving the IPC," said Leon Cabrera, a trader at Mexico City-based Vanguardia Casa de Bolsa. "It reflects the nervousness out there. It's part of being in the market."