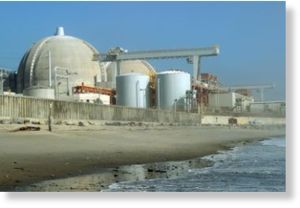 A veteran at the San Onofre nuclear plant fell into a reactor pool, but suffered no major radiation exposure.
A plant worker at the San Onofre Nuclear Generating Station in San Diego fell inside a reactor pool last week, but he didn't suffer any major radiation exposure, the
North County Times
reported
.
According to Southern California Edison spokesman Gil Alexander, the man was leaning over to pick up a flashlight he had dropped when he lost his balance and fell into the Unit 2 reactor pool, the Associated Press
reported
. The pool, 20 feet deep, was filled with water that circulates through the reactor core.
"He was wearing all of the appropriate safety equipment, including a life preserver vest. We immediately began a thorough medical screening to determine if there had been any injury," Alexander said, the
North County Times
reported.