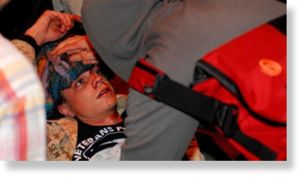 The Iraq veteran seriously wounded Tuesday night at "
Occupy Oakland
" sustained minor brain damage and has been rendered unable to speak, doctors said Friday, adding that he will likely be able to make a full recovery in time.
Scott Olsen, 24, was said to be otherwise lucid and able to communicate with his family by writing notes, but his ability to spell is also damaged, according to sources who spoke with
The Guardian
. He is, however, able to understand what's being communicated to him.
Keith Shannon, Olsen's roommate who served with him in Iraq, explained that "He cannot talk right now, and that is because the fracture is right on the speech center of his brain," the paper added. "However, they are expecting he will get that back."