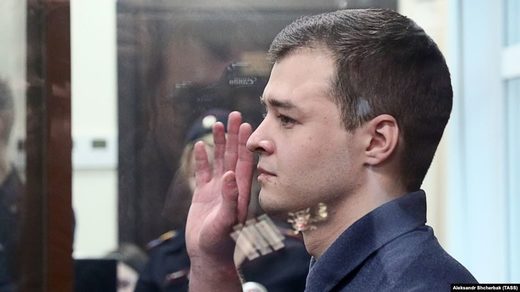 A Moscow police officer who authorities say was assaulted by an activist has said the suspect "does not deserve imprisonment."
Investigators say
Nikita Chirtsov pushed Yuriy Mikhalyonok during an unsanctioned protest
on July 27, inflicting physical pain on the officer.
A Moscow court on November 12 ruled that Chirtsov must remain in pretrial detention until April 30,
despite Mikhalyonok saying during the hearing that he "did not feel any pain during the attack" and that he is "ready to make peace" with Chirtsov
.
Prosecutors have asked the court to sentence Chirtsov to
3 years and 2 months in prison
.
Mikhalyonok told RFE/RL after the hearing on November 12 that Chirtsov's "action against me was not that heavy."
"I think the punishment for this action should not be imprisonment.
He [Chirtsov] does not deserve a prison term
," Mikhalyonok said.