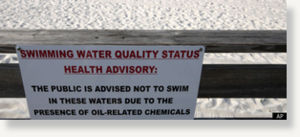 As the one-year anniversary of the BP oil spill approaches, some scientists have deemed the health of the Gulf of Mexico as "nearly back to normal," though countless workers involved in cleaning up the aftermath of the disaster are reporting mysterious and unexplained illnesses.
The Associated Press
reports that scientists have graded the Gulf's ecosystem health now as just a few points below where it was before the spill. Granted, the scientists go on to voice concern for the mysterious deaths of hundreds of young
dolphins
and turtles, dead patches of sea floor, and stained crabs.
Jane Lubchenco, the head of the National Oceanic and Atmospheric Administration said, the Gulf is "much better than people feared, but the jury is out about what the end result will be."