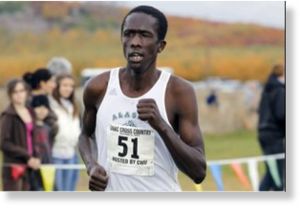 A top college runner from Kenya who spent two days lost in an Alaska snowstorm earlier this month had to have both of his feet amputated due to frostbite, the University of Alaska, Anchorage said on Monday.
Marko Cheseto, a two-time NCAA All-American runner, disappeared on November 6 after leaving the university campus during a heavy storm. He walked into a campus hotel more than 48 hours later severely hypothermic and suffering from frostbite.
Both of the 28-year-old star athlete's feet later had to be amputated because of severe frostbite, the university said.
Cheseto, in his first public statement since he was found, thanked the university, city and volunteers who searched for him during his "troubled times".
"As some may know, I've been going through a lot of personal issues," the runner said in a statement released through the university.
"While I am still recovering, both physically and emotionally, I will do my very best to give back to the community that has helped me so much and to my home country, Kenya," he said. "I sincerely apologize for any problems that I may have caused."
The disappearance of Cheseto triggered an intensive search in the woods and trails surrounding the University of Alaska and Alaska Pacific University campuses.
Authorities said they still don't know why Cheseto walked out into the storm wearing only jeans and a light coat or where he was during the time he was missing.
"We still haven't been able to account for all of the time he was gone," university athletic director Steve Cobb said.
Close Friend Committed Suicide
Cheseto, in addition to his success on the track, has been honored for his academic achievements while at the university, where he is studying nursing and nutrition and has maintained a near-perfect grade point average, according to the university.
But his time at the school has not been without tragedy. A close friend and fellow Kenyan runner from Cheseto's hometown of Kapenguria, William Ritekwiang, committed suicide in February.
The pair were among several Kenyan runners who have helped turn the university into a cross-country and track powerhouse. Earlier this month, the school's cross-country team swept the NCAA Division II western regional championships, with Kenyan athletes taking several individual titles.
Three of the university's Kenyan runners also won All-American honors this weekend at the NCAA Division II national championships.
Cheseto intends to return to Kenya to work in his chosen field after he graduates, Cobb said, and there were also hopes that he can keep running.
"There's some miraculous things in this day and age," he said. "We'll just have to see what the future holds."
Cheseto will be hospitalized for several more days, at least, and will undergo months of rehabilitation, Cobb said.
"He seems very upbeat and anxious to get on with a rehabilitation program," Cobb said.
Cheseto set the speed record for the Anchorage Mayor's Half Marathon and holds numerous athletic honors, including All-America honors bestowed twice by the National Collegiate Athletic Association.