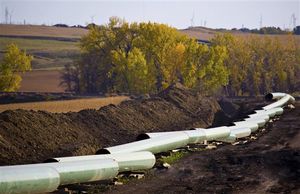 Washington - A Texas family farm has won a temporary restraining order to block TransCanada Corp. from building the Keystone XL pipeline through its property, accusing the company of dealing in bad faith and withholding vital information about the project.
Lawyers for TransCanada and the Crawford Family Farm in northeastern Texas's Lamar County are now set to square off at a hearing Friday that could determine whether to approve the Calgary-based company's petition to condemn the property under eminent domain laws.
"We don't think they have negotiated in good faith," said attorney John Pieratt, who represents farm manager Julia Trigg Crawford.
"They just want to build the thing without us having our day in court."
At issue is TransCanada's effort to gain a right-of-way easement allowing it to build the future Keystone XL pipeline across the Crawford farm.