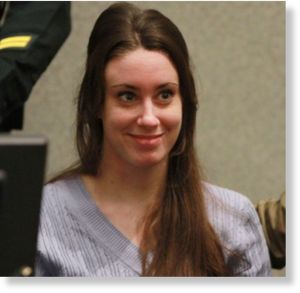 Casey Anthony gave video evidence this morning in the defamation lawsuit against her, disguised in a wig, baseball cap and sunglasses.
The testimony was part of the case brought against her by Zenaida Fernandez-Gonzalez, who had the same name as the fictional nanny, 'Zanny', Anthony blamed for the disappearance of her daughter, Caylee.
It is the first time the 25-year-old has been seen since her release from jail in July.
This morning Anthony's lawyer repeatedly invoked her Fifth Amendment right against self-incrimination, as expected, according to John Morgan, Gonzalez' lawyer.
Morgan questioned Anthony, who was in a secret, remote, location in Florida, via video link.
Anthony did answer general questions, including whether she was present during her trial and whether she was in court for her attorney's opening statement, Morgan said.