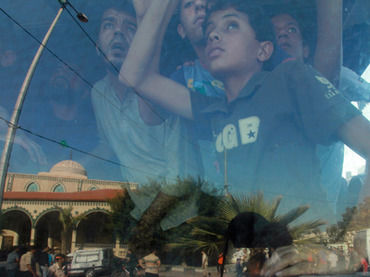 Hundreds of people watched but did not intervene
as a gang of Israeli youths attempted to "lynch" a group of Palestinian children in the center of Jerusalem's Zion Square, police said on Sunday. Five suspects have been arrested so far.
­Four Palestinian youths were badly beaten in the incident in central Jerusalem on Friday. The attack was short and the gang fled after knocking one victim to the ground and kicking him unconscious before police arrived.
There were several dozen attackers, according to witnesses, who say that
the Jewish youths were shouting "death to the Arabs"
and seemed to be on the hunt for Palestinian victims.
Some witnesses described the attack as a "lynch," while Israeli authorities claimed the attack was a typical brawl between Israeli and Palestinian young people. However, on Sunday, police called the event a "lynching,"
Haaretz
reports.
Comment:
See
Horror: Jewish teens lynch Arab youth in Jerusalem
, which includes an eye-witness testimony leaving no doubt that this was a lynch. It was the Israeli media and authorities who decided after the fact that "brawl" would sound a little better to Zionist ears.