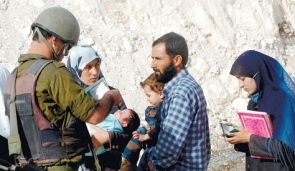 The Knesset's decision to probe the human rights' groups funding sources, a move motivated by the right's desire to clamp down on the organizations' activity, should be denounced on several accounts.
However, the right-wing parties should be interested in continuing these organizations' activity, for the simple reason that
they - albeit unintentionally - are advancing those parties' long-term interest: entrenching the occupation.
In the past decade organizations such as B'Tselem, Machsom Watch and even Breaking the Silence have entered the vacuum in the government's control over the army and in the senior command's control over the field units. The center of gravity of conducting the warfare in the midst of the Palestinian population has been diverted, as is characteristic of this kind of policing-warfare, from the high command to the lower field command, which frequently exercises unbridled force on the population.
The army has difficulty effectively controlling the units, and so the task taken up by the human rights' organizations.