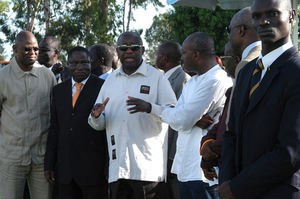 Security forces react violently in support of loser of last election who will not cede power, as African leaders form a panel to try to broker peace
Ivorian troops have killed at least six protesters who were calling on Laurent Gbagbo to step down as leader, witnesses say, as African presidents charged with resolving Ivory Coast's crisis arrived in Abidjan.
A dispute over the presidential election in November paralysed the country and led to the deaths of about 300 people.
The election, meant to bring stability after a decade of economic and political stagnation in the world's biggest cocoa-producing country, instead left it as divided as ever and its economy in disarray.
Alassane Ouattara is recognised internationally as the victor, but Gbagbo has refused to cede power.