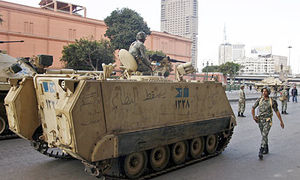 As police disappear from residential streets, communities take law into their own hands against armed gangs
The security of most neighbourhoods in Egypt lay in the hands of its citizens last night, as residents responded to the disappearance of the police force by setting up makeshift barricades and beginning local patrols to protect themselves from violence.
In extraordinary scenes repeated across the country, communities formed spontaneous militias armed with sticks, knives and guns, and worked through the night to man roadblocks and maintain order on the streets,
from which the government security forces are now almost entirely absent
. The army remains in place on major highways, squares and public buildings - but away from main roads local residents were left to defend their families and property from looters.
As reports filtered in of gangs attempting to rob and terrorise neighbourhoods in different quarters of the capital, some pointed the finger at escaped prisoners and opportunistic criminals, though
many more claimed that groups of policemen, now wearing civilian clothing, were behind the attacks. There were claims that some of those captured by vigilantes were found with police IDs
.