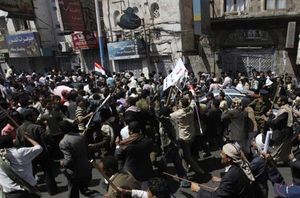 Government supporters armed with traditional knives and batons broke up a pro-democracy march on Saturday by 2,000 Yemenis inspired by the Egyptian uprising.
Yemeni President Ali Abdullah Saleh, trying to ward off protests spreading across the Arab world, has promised to step down when his term ends in 2013, but the opposition has yet to respond to his call to join a unity government. The opposition wants talks to take place under Western or Gulf Arab auspices.
As well as sporadic protests, the Arabian Peninsula state is also struggling with a secessionist movement in the south, a shaky cease-fire with Shi'ite rebels in the north and a resurgent al Qaeda presence, all against a backdrop of chronic poverty.
Some 300 anti-government student demonstrators assembled at Sanaa University on Saturday morning. As numbers swelled into the thousands, they began marching towards the Egyptian embassy.
"The people want the fall of the government," protesters chanted. "A Yemeni revolution after the Egyptian revolution."