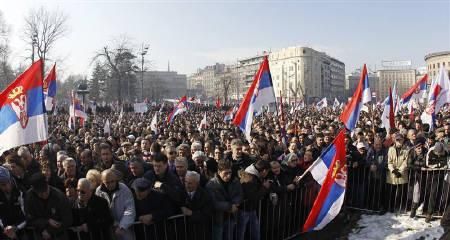 Tens of thousands of disenchanted Serbs protested in central Belgrade on Saturday in the biggest anti-government rally in years aimed at showing opposition strength ahead of scheduled 2012 elections.
A pro-European Union coalition has governed Serbia since 2008, but persistent economic hardship and frustration with slow EU integration has left many disgruntled with the government.
"This government was promising us milk and honey in 2008 and what do we have now? More hardship, and a dishonest and arrogant government which does not care about its own people," said Zdravka Stanojlovic, 44, a Belgrade waitress.
The rally was organised by Tomislav Nikolic, head of the Serbian Progressive Party, the most influential opposition party shown in polls as offering a strong challenge to the current ruling Serbian Democratic Party.