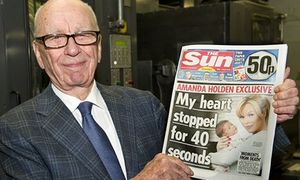 Not a big deal in the scheme of things, but it's still the same fecund bone-yard of gossip, poison and lies. Have they learned nothing?
The
Sun on Sunday
, which is of course the
News of the World
with a different hat on, lied about me last week.
In the general scheme of things, the crumbling economy, the savaged environment, the treacherous, inept, deceitful politicians that govern us, the corrupt corporations that exploit us, it might not seem like a big deal. That's because it isn't to anyone, except me or my girlfriend. The pain, disruption and distress, that
the Sun
inflicted by falsely claiming that I cheated on my girlfriend, in the context of such awesome corruption, is a pale liver-spot on the back of Murdoch's glabrous claw. Still though, it's a tiny part of the demon's dermatology and as such, connected to all the other pestilence. Here's how.