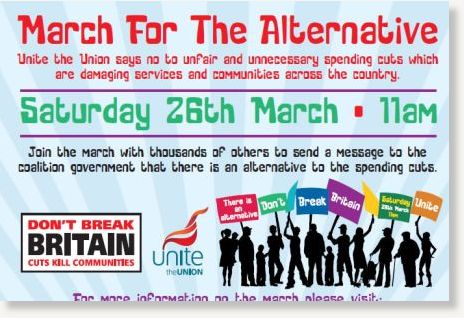 The TUC-organized March for the Alternative in London enjoys the potential to demonstrate unity and solidarity among every member of Britain's labor movement.
Between 100,000 to 300,000 people are expected to turn out in the massive protests organized by the Trades Union Congress (TUC) today to show that they are united and determined to resist the coalition government's cuts program.
Tens of thousands of teachers, council staff, nurses, students, National Health Service (NHS) and other workers are scheduled to partake in the huge demonstration, which is the biggest public backlash against the government's spending cuts since it came to power after May 2010 general elections.
The protest march is the biggest union-organized march for more than 20 years and the largest in the country since the anti-Iraq war march in 2003.
Labour politicians including leader Ed Miliband will also be attending, as well as hundreds of radical activists intent on taking direct action.
A number of protesters have vowed to occupy Oxford Street and key buildings along the protest route.