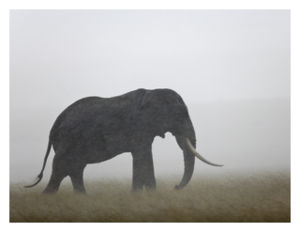 The UN watchdog into the illegal wildlife trade on Tuesday voiced "grave concern" at a spike in African elephant poaching after nearly 450 of the animals were killed in Cameroon.
The head of the Convention on International Trade in Endangered Species of Wild Fauna and Flora (CITES), John Scanlon, pointed at recent reports of mass poaching for ivory in Cameroon's Bouba Ndjida National Park.
"This most recent incident of poaching elephants is on a massive scale," said Scanlon. "It reflects a new trend we are detecting across many range states, where well-armed poachers with sophisticated weapons decimate elephant populations, often with impunity."
CITES is offering African governments support to hunt down the criminals and to locate and seize the poached ivory. Potential transit and destination countries had been urged to remain extremely vigilant and to cooperate.
The CITES program on elephants revealed increasing levels of poaching in 2011.
"This spike in elephant poaching is of grave concern not only to Cameroon, a member state to CITES, but to all 38 range states of the African elephant," said Scanlon.