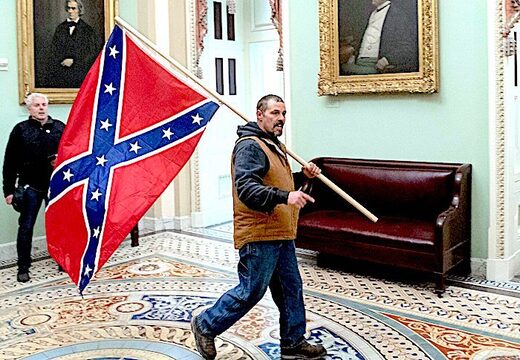 A shocking YouGov poll found that 66% of Republicans in southern states want to secede from the United States.
The survey, by YouGov in conjunction with
BrightLineWatch
, looked at the current political climate in America. The most stunning question concerned support or opposition for the state in which respondents lived in "seceding from the United States to join a new union with [list of states in new union]?"
Five prospective new unions were constructed (by region)
"and inserted the relevant states for respondents into the question wording above. For example, a participant from California in our survey would be asked about joining a new union along with Washington, Oregon, Hawaii, and Alaska."
These sets are provided below:
Pacific: California, Washington, Oregon, Hawaii, and Alaska
Mountain: Idaho, Montana, Wyoming, Utah, Colorado, Nevada, Arizona, and New Mexico
South: Texas, Oklahoma, Arkansas, Louisiana, Mississippi, Alabama, Georgia, Florida, South Carolina, North Carolina, Virginia, Kentucky, and Tennessee
Heartland: Michigan, Ohio, West Virginia, Illinois, Indiana, Minnesota, Wisconsin, Iowa, Missouri, North Dakota, South Dakota, Kansas, and Nebraska
Northeast: Maine, New Hampshire, Vermont, Massachusetts, Rhode Island, Connecticut, New York, New Jersey, Pennsylvania, Maryland, Delaware, and the District of Columbia