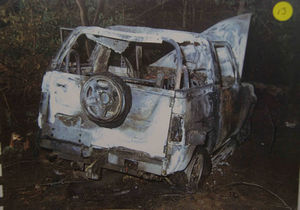 DEADLY conman Malcolm Webster thought for almost 17 years that he had got away with the perfect murder.
He was so sure of himself, he tried to kill his second wife in exactly the same way he murdered his first - a staged fireball crash.
His murder of first wife Claire Morris in 1994 netted him £200,000 and he would have gained £500,000 if he succeeded in killing second wife Felicity Drumm.
But yesterday the monster who charmed a string of women was facing life in jail after his web of deceit finally unraveled.
A jury took less than four hours to find the former nurse guilty of murder, attempted murder and a string of other charges, including trying to commit bigamy, fraud and fire-raising.
To the women he wooed around the world, 52-year-old Webster seemed the perfect English gentleman - in the words of one former conquest almost "too good to be true".
In fact, his life was founded on lies and ruthless scheming to get the high life he craved.