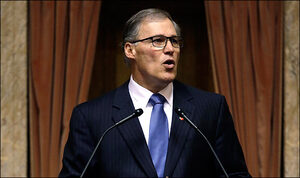 Gov. Jay Inslee said Tuesday he was suspending the use of the death penalty in Washington state for as long as he's in office, announcing a move that he hopes will enable officials to "join a growing national conversation about capital punishment."
The first-term Democrat said he came to the decision after months of review, meetings with victims' families, prosecutors and law enforcement.
"There have been too many doubts raised about capital punishment, there are too many flaws in this system today," Inslee said at a news conference. "There is too much at stake to accept an imperfect system."
Last year, Maryland abolished the death penalty, the 18th state to do so and the sixth in the last six years. In Washington state, legislative efforts to abolish the death penalty have received public hearings in recent years, but they've never gained political traction. Inslee said he would support a permanent ban from lawmakers.
Washington state hasn't executed an inmate in more than three years. There have been seven inmates executed this year in the U.S., according to the Washington D.C.-based Death Penalty Information Center.
Richard Dieter, the center's executive director, said recent state moves away from the death penalty, including Inslee's action, show that support for capital punishment is waning. "The death penalty is being used less," he said.
Inslee, who was elected in 2012, said executions are used in an inconsistent and "unequally applied" way. He also said death penalty cases can take years to wind through the legal system and represent a drag on state budgets.
He said the system "does not deter crime, costs citizens millions of dollars more than life in prison without parole," is "uncertain in its application" and "exposes families to multiple decades of uncertainty."
Inslee's moratorium means that if a death penalty case comes to his desk, he will issue a reprieve. Reprieves aren't pardons and don't commute the sentences of those condemned to death. Under Inslee's system, death row inmates will remain in prison rather than face execution.
"During my term, we will not be executing people," said Inslee. But "nobody is getting out of prison, period."
Rep. Reuven Carlyle, a Seattle Democrat who has introduced bills to get rid of the death penalty, said Inslee's action provides a "profound shift" in momentum for future attempts.
"He has opened a legitimate conversation that gives the Legislature the ability to not only bring legislation forward in the coming years, but to step up and engage the public in that conversation," he said.
There have been 78 inmates, all men, put to death in Washington state since 1904. Since a 1976 U.S. Supreme Court decision cleared the way for the resumption of executions by states, 1,366 people have been put to death, according to the criminal justice nonprofit Death Penalty Information Center.
In Washington state, nine men are currently on death row. The state Supreme Court last month rejected a petition for release from Jonathan Lee Gentry, sentenced to death for the murder of a 12-year-old girl in 1988. Gentry could have been the first execution in the state since September 2010.
Senate Republican Leader Mark Schoesler of Ritzville said he thought Inslee's move was "out of touch."
He noted that lawmakers have previously rejected opportunities to pass such measures, "because the public and Legislature support keeping that tool."
Leola Peden, whose daughter was raped and killed in Tacoma in 1996, was outraged at the decision. The man convicted in her daughter's death, Allen Eugene Gregory, is on death row. Peden, 78, said Inslee hadn't spoken with her before announcing the new policy. "He's absolutely wrong," Peden said.
"I don't feel that my family and my grandchildren and my great grandchildren should clothe and feed" Gregory, she said, "and take care of all his health needs and dental care for the rest of his life. Where is the justice in that?"
Reaction from county prosecutors was mixed. Dan Satterberg, the elected prosecutor in King County, which includes Seattle, said the moratorium "is likely to cause more delay, expense and uncertainty."
"A moratorium alone will not resolve the issues raised by the governor," Satterberg said in a written statement. He said there should be an informed public debate before the state makes changes.
Kitsap County Prosecutor Russell Hauge called the death penalty "an extremely ineffective tool." But he noted that the moratorium didn't change state law, which obligates county prosecutors to seek the death penalty when circumstances warrant. "The problem is, the law's still on the books," he said.