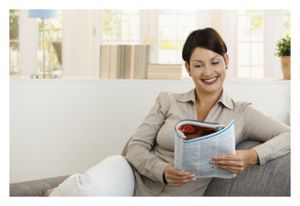 Don't blush, but chances are the magazines you read are getting sexier.
Sexy advertisements are up in magazines from
Playboy
to
Time
and
Newsweek
to
Esquire
, according to new research from the University of Georgia. Since 1983, the percent of ads using sex to sell products rose from 15 percent to 27 percent by 2003.
Though sexual imagery is used to sell almost everything, even banking services, the bulk of the increase has come in ads for impulse buys: alcohol, entertainment, beauty supplies.
These products have long clung to the "
sex sells
" maxim, said study researcher Tom Reichert, a professor of advertising and public relations at the University of Georgia.
"Advertisers
use sex
because it can be very effective," Reichert said in a statement. (Past research has suggested, however, that
sex doesn't sell to female readers
, with sensual advertising images leaving women bored and uninterested.)