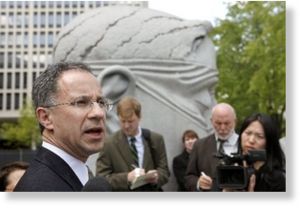 A Long Island mortgage broker whose extensive cooperation with investigators helped break open one of the largest and longest-running insider trading frauds ever prosecuted was sentenced to just 2 years and 3 months in prison today, as the sentencing judge praised Kenneth Robinson for helping the FBI make damning secret recordings of his two co-conspirators.
Robinson, 45, of Long Beach, N.Y., got a sentence that was well below the roughly six to seven years recommended for him under federal sentencing guidelines. And his sentence came just a day after the same judge gave his two co-conspirators 12 years and nine years in prison, respectively.
The
12-year sentence handed down Monday
to blue-chip corporate lawyer Matthew Kluger, a central figure in a 17-year insider-trading scheme that funneled $37 million in illicit profits to three white-collar professionals, is being hailed by U.S. Attorney Paul Fishman as the longest sentence ever imposed in an insider-trading case in the United States.
"It's very clear to me that only one of the three defendants (charged in the case) is literally living in this world, living and breathing the air that we breathe," said U.S. District Judge Katharine Hayden as she credited Robinson for both his cooperation with authorities and contriteness, while also distinguishing him from co-defendants who she said may still not grasp the impact and wrongness of their crimes.