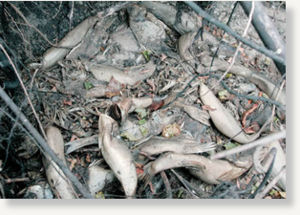 Sumner Township - Two commercial fishers face fines and felony charges of killing nearly 700 game fish while netting carp in Lake Koshkonong last fall and then burying the fish along a shoreline in a plot to hide the kill, according to a criminal complaint.
Steven Kallenbach, 54, of Stoddard and John Bruring, 47, of La Crosse were charged Jan. 27 in Jefferson County Court with felony possession of illegal fish after a lengthy investigation by the Department of Natural Resources into a large number of dead fish found along the shore of Lake Koshkonong on Sept. 28, 2010.
Kallenbach and Bruring face jail time and fines of up to $10,000 for the charges. They're scheduled for an initial appearance Feb. 21 in Jefferson County Court.