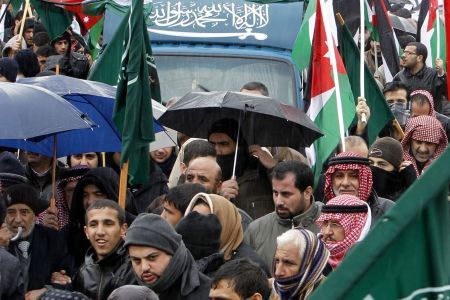 Hundreds of Jordanians have gathered outside the prime minister office in the capital, Amman, calling for wide and quick political and economic reforms.
Around 1,000 protesters marched toward the prime ministry following the Friday Prayers and urged Jordan's newly-appointed Prime Minister Marouf Bakhit to bring in the public on the country's decision making process.
Demonstrators said they demand more government reforms than the appointment of a new prime minister. The protest was organized by the Islamic Action Front (IAF), the political arm of Jordan's Muslim Brotherhood.
On Tuesday, after three weeks of anti-government protests, King Abdullah sacked the prime minister, Samir Rifai, and appointed Marouf Bakhit in his place, instructing him to "take practical, quick and tangible steps to launch true political reforms."
The opposition, however, says Bakhit is not a reformist.
"We want seriousness on the ground. We want a genuine reform. We want initiatives and now so that people feel they are partners in decision making," Secretary General of IAF Hamzeh Mansour said.