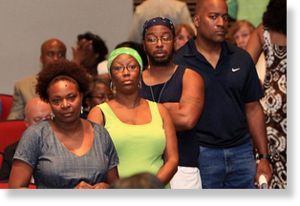 Parents of students at an Atlanta public school where cheating was alleged to have occurred on a statewide test on Tuesday night defended their school and teachers at a town hall meeting.
"We've been extremely pleased with the instruction my children have received," said Quinnie Cook-Richardson, one of several parents at the troubled West Manor Elementary School who spoke at the meeting.
Her son's teacher had him reading within a year, she said, adding, "They are an example of what is right with Atlanta Public Schools."
Cook-Richardson was among a parade of parents who defended a school where the principal has been asked to resign because of the scandal surrounding the 2009 Criterion-Referenced Competency Tests.