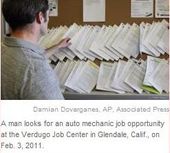 Washington - Unemployment rose in nearly all of the 372 largest U.S. cities in January compared to the previous month, mostly because of seasonal changes such as the layoff of temporary retail employees hired for the holidays.
The Labor Department said Friday that the unemployment rate rose in 351 metro areas, fell in only 16, and was unchanged in 5. That's worse than December, when the rate fell in 207 areas and increased in 122.
Other seasonal trends, such as the layoff of construction workers due to winter weather, also contributed to the widespread increase.
Nationwide, the unemployment rate dropped to 9% in January from 9.4% the previous month. It ticked down to 8.9% in February. But the national data is seasonally adjusted, while the metro data isn't, which makes it more volatile. The metro data also lags the national report by one month.
The report shows that metro areas hit hard by the housing crisis are still struggling with high unemployment. At the same time, a strong recovery in the manufacturing sector, particularly among U.S. auto companies, has bolstered many smaller cities in the Midwest.