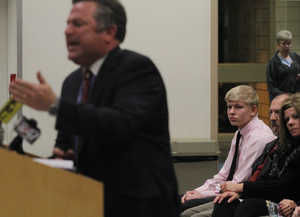 Clovis, California - The Clovis Unified school board voted unanimously Wednesday night to expel a Buchanan High student, concluding that a wrestling move he used on a teammate during practice constituted sexual battery and bullying.
Preston Hill, 17, and his parents left before the decision was announced.
"They thought it would be a waste of time to stick around," said attorney Charles Magill, who made a last-ditch effort to get Hill reinstated at Buchanan.
The board deliberated privately for fewer than 30 minutes before announcing the decision at a public hearing at Clovis Unified School District headquarters.
Hill, who was suspended before the school year started, now can't finish his senior year at Buchanan or set foot on Clovis Unified property. His options include enrolling in another school district or attending a charter or private school.