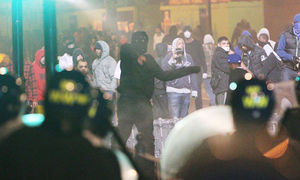 Looters use cars and shopping trolleys to carry away stolen goods as disturbances spread to other areas of Haringey
There were scenes of chaos in the early hours of Sunday morning as sustained looting spread from Tottenham to other nearby areas of Haringey.
By midnight police managed to secure a 200-metre stretch of the Tottenham High Road, scene of some of the worst rioting on Saturday night.
But as fire engines entered the street, and began putting out blazing cars and buildings, the rioters spread north and west through back-streets. To the north, at Tottenham Hale, Aldi supermarket was ransacked and set on fire. So too was a nearby carpet shop, causing a huge blaze.
Looters turned up with cars and shopping trolleys to carry away stolen goods. Nearby, large groups of youths congregated in the surrounding streets with sticks, bottles and hammers.
Some wore balaclava masks, preventing cars from accessing streets as buildings were broken into. Others used large rubbish bins to form burning barricades across the road.
However some of most dramatic looting took place further west, in Wood Green, and continued into the early hours of the morning.
Earlier on Saturday night two police cars, a bus and several shops had been attacked and set ablaze as violence and looting erupted following a protest demanding "justice" over a fatal police shooting.
Officers on horseback and others in riot gear clashed with hundreds of ­rioters armed with makeshift missiles in the centre of Tottenham after Mark Duggan, 29, a father of four, was killed on Thursday.
On Sunday morning police said there remained isolated incidents in the Tottenham area involving "a small number of people" and officers were still dealing with those situations. Eight officers were being treated in hospital, one with head injuries, following the violence.
But there was still no police presence at Wood Green high street at 4am, even after dozens of stores had been smashed and raided, setting of multiple alarms.
Around 100 youths sprinted around the highstreet, targeting game shops, electrical stores and high-street clothe chains such as H & M.
Glass windows were smashed and the looters, mostly young men masking their faces, swarmed in.
They emerged with handfuls of stolen goods. "I've got loads of G-Star," said one teenager, emerging from a clothes shop. Others came out clasping shopping bags stuffed with goods.
Three teenagers ran down the street with suitcases filled with stolen clothes. Around ten young men stood outside a smouldering Carphone Warehouse, the windows smashed. The theft was casual and brazen, with looters peering into broken shop windows to see if items of value remained.
There were shocking scenes in the suburban back-streets, where residential front-gardens were used to frantically sort and swap stolen goods.
A teenage boy, who looked aged around 14, drove a stolen minicab erratically down a side-street. On the adjacent street, a man who emerged from his home to find his car burnt-out remonstrated with other young men, who ran past carrying clothes.
Passersby, including people returning home in the early hours from nights out, were stunned to discover the lawless mayhem on the streets.
With no sign of any police, buses refused to take passengers through Wood Green high street, and traffic was brought to a standstill.