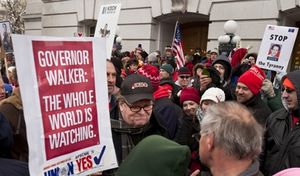 Michael Moore addresses a crowd at the Capitol on Saturday, the 18th day of protests over Gov. Scott Walker's proposed budget that would eliminate collective bargaining rights for many state workers.
Protesters in Madison have "aroused a sleeping giant" in the national fight for workers' rights, filmmaker Michael Moore told thousands at the Capitol Square on Saturday, as rallies opposing Gov. Scott Walker's budget proposals wrapped up their third week.
"Right now the Earth is shaking and the ground is shifting under the feet of those who are in charge," said Moore, the Oscar-winning maker of
Bowling for Columbine
, whose documentaries also include
Fahrenheit 911
and
Capitalism: A Love Story.