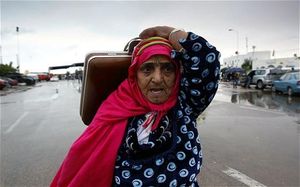 Up to 1.5 million refugees from North Africa could try to flee across the Mediterranean, Italy warned on Thursday as the government begged for help from the EU in dealing with the potential exodus.
Roberto Maroni, Italy's interior minister, said the worst case scenario could see 1.5 million migrants trying to escape countries like Libya, Tunisia and Egypt - a prediction that dwarfed concerns expressed by Rome earlier this week that 300,000 might seek to enter Europe.
"We cannot be left alone," Mr Maroni, Italy's interior minister, told his EU counterparts at a meeting in Brussels which was convened to address the looming crisis.
He said the arrival of so many refugees would represent "an invasion" which would bring Italy "to its knees".
"I ask Europe to settle all the necessary measures to deal with a catastrophic humanitarian crisis," in Libya.
Italy, Greece and Malta fear that if the Gaddafi regime falls, the floodgates will be opened to the estimated 1.5 million sub-Saharan Africans who live and work in Libya.