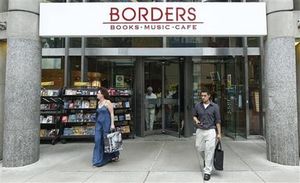 There will be no storybook ending for Borders. The 40-year-old book seller could start shuttering its 399 remaining stores as early as Friday.
The Ann Arbor, Mich.-based chain, which helped pioneer the big-box bookseller concept, is seeking court approval to sell off its assets after it failed to receive any bids that would keep it in business. The move adds Borders to the list of retailers that have failed to adapt to changing consumers' shopping habits and survive the economic downturn, including Circuit City Stores Inc., Blockbuster and Linens 'N Things.
On Thursday, Borders is expected to ask the U.S. Bankruptcy Court of the Southern District of New York at a scheduled hearing to allow it to be sold to liquidators led by Hilco Merchant Resources and Gordon Brothers Group. If the judge approves the move, liquidation sales could start as soon as Friday; the company could go out of business by the end of September.
Borders' attempt to stay in business unraveled quickly last week, after a $215 million "white knight" bid by private-equity firm Najafi Cos. dissolved under objections from creditors and lenders. They argued the chain would be worth more if it liquidated immediately.