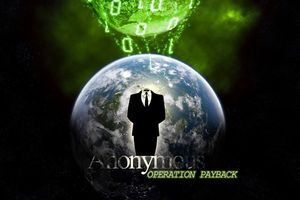 Anonymous, in response to the indictment of Megaupload and its removal from the Internet, has forced the U.S. Department of Justice, the MPAA, the RIAA, Universal Music, the U.S. Copyright office, and BMI to protest SOPA and PIPA. How? By launching a massive DDoS strike, which at the time this story was posted, had been active for nearly an hour.
Within minutes, less than an hour after Megaupload fell from the Internet, and the DOJ released a press statement on the Megaupload indictment, Anonymous reacted. With a statement warning the government that they should've "expected" them, OpMegaupload was launched.
On a massive scale, including a reported
5,635
people (or
more than 20,000
depending on the source) who armed themselves with LOIC in order to participate in the DDoS, Anonymous went on a rampage.
(Note: Sources close to the operation have said that there are about 1,200 people on IRC, and that the reported numbers for LOIC are suspect. In any case, lower numbers have not seemed to have impacted the DDoS at all, as each of the domains remain off-line.)