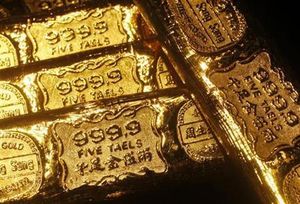 Gold vaulted to record highs above $1,700 an ounce on Monday, surging nearly 3 percent as European Central Bank's buying of Italian and Spanish bonds failed to ease debt fears after Standard & Poor's cut the top-notch AAA credit rating of the United States.
Wall Street plunged nearly 4 percent and other riskier assets collapsed as skittish investors sought a refuge from other safe havens such as U.S. Treasuries in the first session since S&P's downgrade, sending gold's option volatility to its highest level since May 2010 on bets the metal could rally further.
Gold is poised for its biggest one-day gain in nine months as investors bet that nothing short of further government intervention would stave off deepening woes. The Federal Open Market Committee's meeting on Tuesday may hint whether the U.S. central bank will ease monetary policy further.