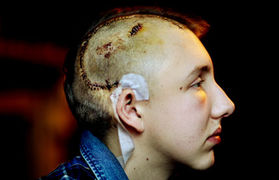 Alfie Meadows, who had brain surgery after anti-fees demonstration, claims he was struck by police truncheon
A philosophy student who claimed he suffered head injuries from a police baton during the anti-fees protest in London faces trial on Monday for violent disorder at the demonstration.
Supporters of Alfie Meadows, 21, who
underwent emergency surgery for his injuries
, have vowed to demonstrate outside Kingston crown court, in Surrey, against what they say is an attempt to silence legitimate protest by pursuing the victim of an assault rather than investigating any police who allegedly carried it out.
Meadows had brain surgery after the anti-fees demonstration in December 2010 when he said he was struck over the head with a police truncheon. He was one of 44 people, including six police officers, treated in hospital after rioting broke out at the demonstration over student fees.