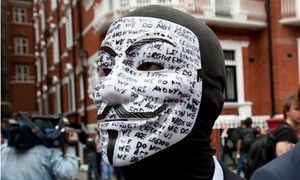 The
hacking
group
Anonymous
claims to have brought down British government websites in protest at the handling of
Julian Assange
's bid to avoid extradition to Sweden.
The self-styled hacktivist group targeted the websites of No 10 and the Home Office
early on Tuesday
under what it called "Operation Free Assange".
Hackers said they had also brought down websites belonging to the justice department and Department for Work and Pensions in the attack.
Anonymous
vowed to continue
targeting government websites as the diplomatic temperature around the
WikiLeaks
founder continued to rise.
The online
DDOS (distributed denial of service)
attacks, which also hit sites in Sweden, came as the Ecuadorian president Rafael Correa
warned Britain that attempting to enter his country's embassy in London would be an act of diplomatic suicide
.