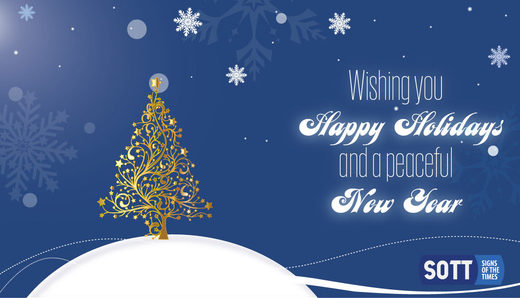 As the holiday season approaches and 2019 comes to a close, we'd like to take a moment to thank you, our readers, for your continued support of Sott.net. When we started out all those years ago, we settled on the name 'Signs of the Times' (SOTT) because the media just didn't seem to notice that momentous changes were happening, that those momentous changes were connected, and that if they were observed together in 'big picture' mode, one could literally observe the world transform. Little did we know then just how reality-changing things would become.
What a year 2019 has been. Open rebellion has erupted in many countries, terrorism and 'random atrocities' continue unabated, the weather has become more extreme than ever, government has become more corrupt and feckless than ever, anti-human social engineering madness has migrated from the universities to the workplace and into schools, and asteroids are whizzing by our little lost planet at an alarming rate.
Although it's been in the works for several years - particularly since the 'double surprise' of Trump's election and the Brexit referendum result - mass censorship took a big leap in 2019. Thanks to certain governments leaning on Big Tech companies, the very nature of the internet changed this year. Purges of dissenting voices like ours from search results and social media has substantially bleached the internet of truth and replaced it with the bullhorns of mainstream propaganda and extremist 'black or white' rhetoric.
As a result, our readership, which grew for most of the 18 year history of Sott.net, is way down again this year - by 37% over 2018. Since 2016, our unique visits have dropped by 55%! We
could
scream and shout about it, but we don't think that would do any good. In fact, there's too much screaming and shouting going on these days - about anything and everything - that is obviously not doing anyone any good. That's why we at Sott.net have been refocusing our efforts from 'waking people up' to deepening our connections with 'those who already see'.
In these times of monumental mendacity, surround-sound distraction, and full-on socio-political lunacy, the refuge of community is more important than ever. There is only so much 'community' you can partake in via your computer screen, of course, but no matter where you are or what predicament you find yourself in, remember always that what is important is WHO you are and what you SEE.