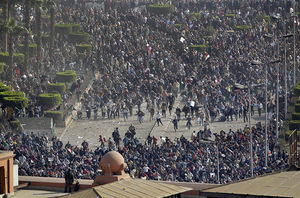 Thousands of supporters and opponents of President Hosni Mubarak battled in Cairo's main square Wednesday, raining stones, bottles and firebombs on each other in scenes of uncontrolled violence chaos as soldiers stood by without intervening. Government backers galloped in on horses and camels, only to be dragged to the ground and beaten bloody.
At the fighting's main front line, next to the famed Egyptian Museum at the edge of Tahrir Square, pro-government rioters blanketed the rooftops of nearby buildings, dumping bricks and firebombs onto the crowd below - in the process setting a tree ablaze inside the museum grounds. Below on the street, the two sides, crouched behind abandoned trucks, hurled chunks of concrete and bottles at each other, and some government supporters waved machetes.
Bloodied anti-government protesters were taken to makeshift clinics in mosques and alleyways, and some pleaded for protection from soldiers stationed at the square, who refused. Soldiers did nothing to stop the violence beyond firing an occasional shot in the air.
"
Hosni has opened the door for these thugs to attack us
," one man with a loudspeaker shouted to the crowds during the fighting.