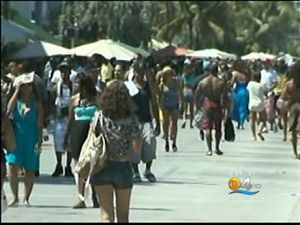 Saying 'enough is enough' several community activists are gathering forces for a rally Friday evening in front of Miami Beach City Hall to urge city leaders to end Urban Beach Weekend.
Herb Sosa, who publishes the online magazine
Ambiente
, is a leading figure to end the unofficial Memorial Day weekend event which draws hundreds of thousands of visitors to South Beach.
In an open letter to Miami Beach Mayor Matti Bower, Sosa writes that the Urban Beach weekend
"shows our city as nothing short of a warzone - Filthy streets, a drive by shooting, multiple cars crashed in the process, and total chaos on the streets. This is unacceptable and must be controlled before we totally lose our city, tourism & residents. It is not limited to Ocean Drive or Collins - there isn't a residential street in South Beach not affected by tons of garbage, crime to our vehicles, excessive noise 24 hours a day, and simply a lack of respect for our community, citizens & property."