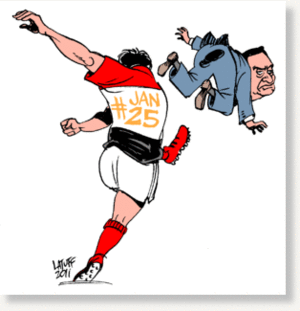 Here's
New York Times
reporter Mark Landler on Washington's reaction to the popular uprising in Egypt against the anti-liberal democratic, human rights-abusing Hosni Mubarak, a "staunch ally."
Washington is "proceeding gingerly, balancing the democratic aspirations of young Arabs with
cold-eyed strategic and commercial interests."
In other words, democracy and human rights are fine, but not when strategic and commercial interests are at stake.
Landler goes on to say that Washington's cold-eyed commitment to realpolitik and profits "sometimes involves supporting autocratic and unpopular governments - which has turned many of those young people against the United States."
Well, there's nothing amiss in Landler's observation except his downplaying of the frequency with which Washington supports autocratic and unpopular governments - often rather than sometimes.