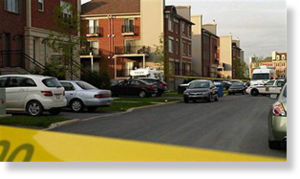 A domestic dispute on Montreal's South Shore may have been at the root of a shooting involving two provincial police officers that left one dead and the other wounded.
The incident happened at about 10:30 p.m. ET Saturday at an apartment on Corbusier Street in the city of Brossard.
Const. Martin Simard with Longueil police said officers were called to the address after someone reported hearing gunshots.
He said when officers arrived they found a man and a woman in the apartment; both had been shot.
One theory being investigated is that the man, 45, shot the woman in the leg before taking his own life.