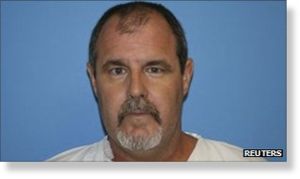 Prosecutors say they will seek the death penalty in the case of a man who allegedly went on a shooting rampage in a hair salon in Seal Beach, California.
Scott Dekraai, 42, has been charged with eight counts of murder and one count of attempted murder.
He was arrested a short distance from the salon - where his ex-wife worked - moments after Wednesday's attack.
Meanwhile, police have released the names of the eight shooting victims, confirming local news reports.
Orange County District Attorney Tony Rackauckas said on Friday that the shootings were triggered by a long-running custody dispute with Mr Dekraai's ex-wife, Michelle Fournier.