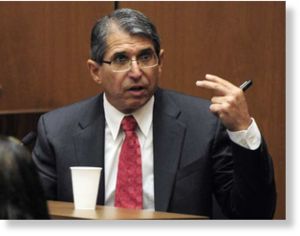 A leading anesthesiologist on Friday told jurors in the trial of Michael Jackson's personal physician that the singer probably caused his own death by injecting himself with a dose of the drug while his doctor wasn't looking.
In his testimony, defense expert Paul White directly challenged the theory put forth by the government's main medical witness, Dr. Steven Shafer. The prosecution expert testified that the only plausible scenario was that Dr. Conrad Murray had left a large intravenous drip of the anesthetic propofol running into the singer's bloodstreams for three hours, even after he stopped breathing.
On Friday, White said Shafer's theory was ruled out by the level of the drug found in Jackson's urine at autopsy. Given the urine levels and evidence at the scene, the more likely explanation was that the singer gave himself the drug, said White, one of the first U.S. researchers to study the drug.