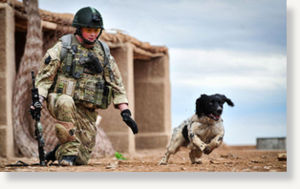 Tributes flow in to the British soldier who worked with his dog to defuse bombs in Afghanistan
Colleagues said army dog handler Liam Tasker was inseparable from his spaniel, Theo, and so it was to the end. When Lance Corporal Tasker was shot dead in southern Afghanistan, his dog survived the shooting only to suffer a fatal heart attack when it returned to the British base at Camp Bastion.
Tasker, 26, was on patrol north of Nahr-e-Saraj in Helmand province on Tuesday with the spaniel, which was trained to search for arms and explosives, when they were caught in gunfire. He died from his injuries.
He was described as having a "natural empathy with dogs". His successful operations "undoubtedly saved many lives", the Ministry of Defence said. The army has about 400 dogs trained to sniff out explosives and weapons but the ministry declined to say how many were deployed in Afghanistan.
Born in Kirkcaldy, Fife, Tasker joined the Royal Army Veterinary Corps after starting his career as a vehicle mechanic. A member of 1st Military Working Dog Regiment, he was attached to 1st Battalion Irish Guards in Afghanistan.