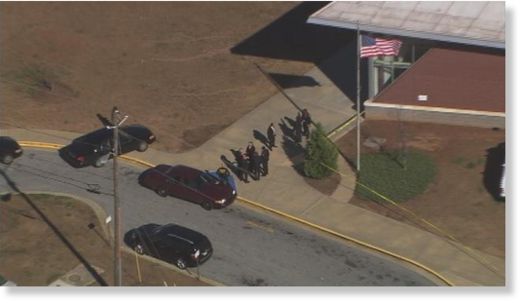 A 14-year-old student shot in the head at an Atlanta school Thursday is "alert, conscious and breathing," said police.
The shooting occurred outside Price Middle School in southeast Atlanta, said Atlanta police spokesman Carlos Campos.
The victim has been taken to Grady Memorial Hospital.
A teacher has been injured. One suspect is in custody.
The Atlanta public school is located north of the Lakewood area at 1670 Benjamin Weldon Bickers Drive S.E.
Channel 2's Tom Jones said students have been taken into an auditorium and are not being released at this time.
An
AJC
reporter at the scene said the area has been cordoned off by police and concerned parents are waiting outside.
Police helicopters are overhead.
A school spokesman contacted by the
AJC
could not initially confirm the shooting. Initial police reports were that the shooting was at Carver High School.