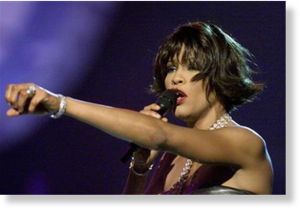 Pop star Whitney Houston was "underwater and apparently unconscious" when she was discovered in a Beverly Hills hotel room bathtub, police said on Monday, as her body was reported to be heading home to New Jersey.
Beverly Hills Police, in a written statement released to address "many rumors" circulating in the media, also said they could not yet speculate on the cause of Houston's death at 48.
"She was underwater and apparently unconscious," Beverly Hills police said. "Ms. Houston was pulled from the tub by members of her staff and hotel security was promptly notified."
The entertainer, who battled drug addiction during her life, was found dead in the bathtub of her Beverly Hills hotel room on Saturday on the eve of music's Grammy Awards, stunning friends, family and fans.
Some media reports, citing unnamed sources, have mentioned a possible accidental drowning. Others have highlighted her past drug and alcohol use.
Coroner department officials have declined to provide much detail pending toxicology tests that could take weeks to complete.
"As can be expected in a high profile incident such as this there have been many rumors circulating and much speculation by the media and the public," Beverly Hills Police said in the statement.
"In order to minimize such speculation, the Beverly Hills Police Department has asked the Coroner's office to place a security hold on their findings until they have a complete and final report prepared."