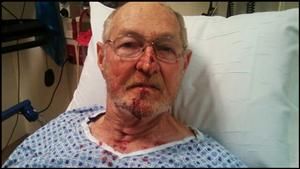 Safety Harbor, Florida -- A man watching Fourth of July fireworks was injured when he was struck by a falling bullet.
Pinellas deputies say Richard John Smeraldo was watching fireworks with his wife and friends near the shoreline at the Safety Harbor Marina when something struck him in the face.
Smeraldo at first thought he was struck by a rock, until a friend found the bullet on the blanket next to her.
Smeraldo was taken to Mease Countryside Hospital, and was released after receiving stitches. Investigators say the bullet apparently went through the bill of Smeraldo's cap, into the bridge of his nose. From there it went out his right nostril, through the upper portion of his bottom lip and exited through his lower chin.