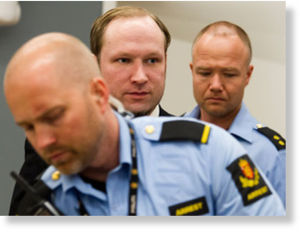 Norway has approved plans to build a specially-designed psychiatric ward inside Oslo's Ila Prison to hold Anders Behring Breivik, the self-confessed mass killer responsible for the massacre at a Norwegian youth camp.
Regardless of whether or not Breivik is found criminally insane, he is likely to remain in the prison where he has been held since the July 22 attacks. Norway's Health Directorate has therefore agreed to a plan to build a new psychiatric ward there, AP reports.
The 33-year-old right-wing extremist who carried out the twin attacks that claimed 77 innocent lives has admitted to murder but pleaded not guilty. The key issue now is deciding his mental state. The court ruling is expected to be announced on August 24.
If he is found sane he will be sentenced to a maximum sentence of 21 years but could be held longer if considered a danger to society. If Breivik is ruled to be insane, he could be held indefinitely.