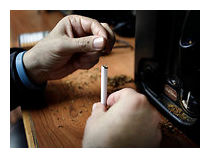 Two stores, on Staten Island and in Chinatown, have agreed to stop selling roll-your-own cigarettes after New York City accused them of
being fronts for evading cigarette taxes.
The owners of the stores, both called
Island Smokes,
agreed to close them by February as part of a consent decree filed in Federal District Court in Manhattan, according to the city's Law Department. They also agreed that no one associated with the businesses would operate a similar enterprise in New York City; stores had already been planned for the East Village and Bay Ridge, Brooklyn.
The stores, which sell loose tobacco and rolling papers and have machines to help customers make their cigarettes, had appeared to operate in a legal gray area. The owners had argued that because they sold loose tobacco, they should not be subject to full state and city cigarette taxes, which can nearly double the price of a pack of cigarettes.