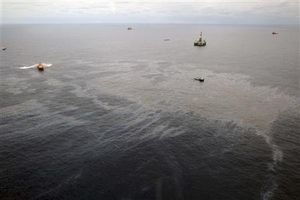 Brazil's government suspended Chevron Corp's drilling rights until Chevron clarifies the causes of an offshore oil spill, the latest twist in a political firestorm threatening the U.S. company's role in Brazil's oil bonanza.
The decision on Wednesday came as the head of Chevron's Brazilian unit testified before Brazil's Congress, where he apologized for the November 8 spill that leaked
about 2,400 barrels of oil into the ocean
off the coast of Rio de Janeiro.
Brazil's National Petroleum Agency said it decided to halt Chevron's drilling rights after determining there was evidence that the company had been "negligent" in its study of data needed to drill and in contingency planning for abandoning the well in the event of accident.
The agency, known as ANP, also rejected a request from Chevron made before the leak to drill wells in the deeper subsalt areas in the Frade field where the spill occurred. The field is located in the oil-rich Campos Basin and is the only block in Brazil where Chevron produces oil as the operator.